August 2018 at Gatwick airport was the beginning of a very special journey for our first rescue dog from Cyprus. This image is the moment that we first met Angus at the airport on that very special day and for me this image is so powerful, portraying feelings of safety, security, love, compassion and joy. I have thousands of pictures of my dogs which are all special to me but this one has a very special significance for Angus and his family.

I am often asked what special training Angus has had to fulfil his role as school dog and emotional support dog, and how he got into that line of work. It's fair to say that Angus does indeed earn his own bone money. You could say that we are a natural partnership who are both sensitive to the emotional needs of others. Angus is my canine emotional regulatory partner and provides a natural ability to regulate the emotions of those he comes into contact with, and I am his human counterpart. Angus has the most amazing eyes which people are drawn to and one of the natural consequences of that is an increase in oxytocin levels, which make us feel all soft and warm. And of course this flows both ways so whilst you are feeling soft and warm so is Angus. I am a Canine Behaviourist and Psychologist with a particular interest in canine and human emotions and how we use them to communicate. You do not speak dog and your dog does not speak human so how is it that you get along so well? If you have ever sat in the company of other people who do not share a common language you will understand that it can be challenging, but not so with a dog. I'm a great believer in keeping behaviours natural so aside from some desensitization work at new venues Angus is encouraged to just be himself.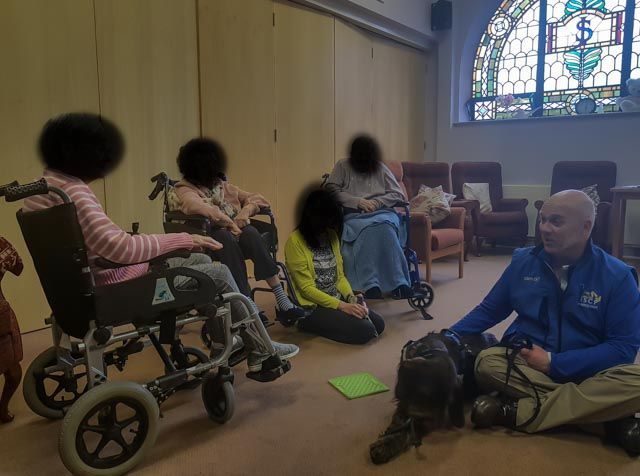 In 2018 a very dear friend of mine invited me and Angus to visit a local residential care home, to provide emotional support for the residents and staff . This was something that we had never done before and I must admit I found my own emotions needed constant regulation. The joy of bringing a smile to a face was jolted by discovering that a resident we had befriended last week had sadly passed away. The staff that work at this home and all others are very special people who I developed a huge admiration and respect for, and we are forever thankful for being given this opportunity.
Angus brought love to people.
I'm going to let me dear friend describe her thoughts on Angus's visits:
"Angus' visits to the nursing home were always a joy. He is such a gentle soul and as such brought a calmness. could fuss him or he would lean over the bed to them. His presence had such a powerful and positive impact on resident's mental health & wellbeing. He was able to help them to smile, laugh and also reminisce and chat about family pets of their own. Some residents have few or no visitors. Many residents are forced to rehome beloved pets when they enter the residential care system. Imagine the state of grief at having to sacrifice one's independence, home and an animal you consider to be one of the family. Angus brought love to people. He greeted everyone with his gorgeous eyes shining and his tail wagging. Resident's looked forward to his visits and spoke about it for days afterwards, asking when he was visiting again. Considering the most dreadful experiences Angus must have seen and lived through before coming to the UK, it is hard not to wonder if his forgiveness and empathy with people is felt by him and he reaches out to those who need him" (J. Collingham: 2020).
I found the experience of being part of such positive interactions life changing and so powerful . Nothing compares to the pure emotion, connectivity, empathy and love I experienced during our visits. It's exhilarating and exhausting at the same time and whilst Angus just took it all in, I found myself needing quiet cuddles with Angus throughout the day.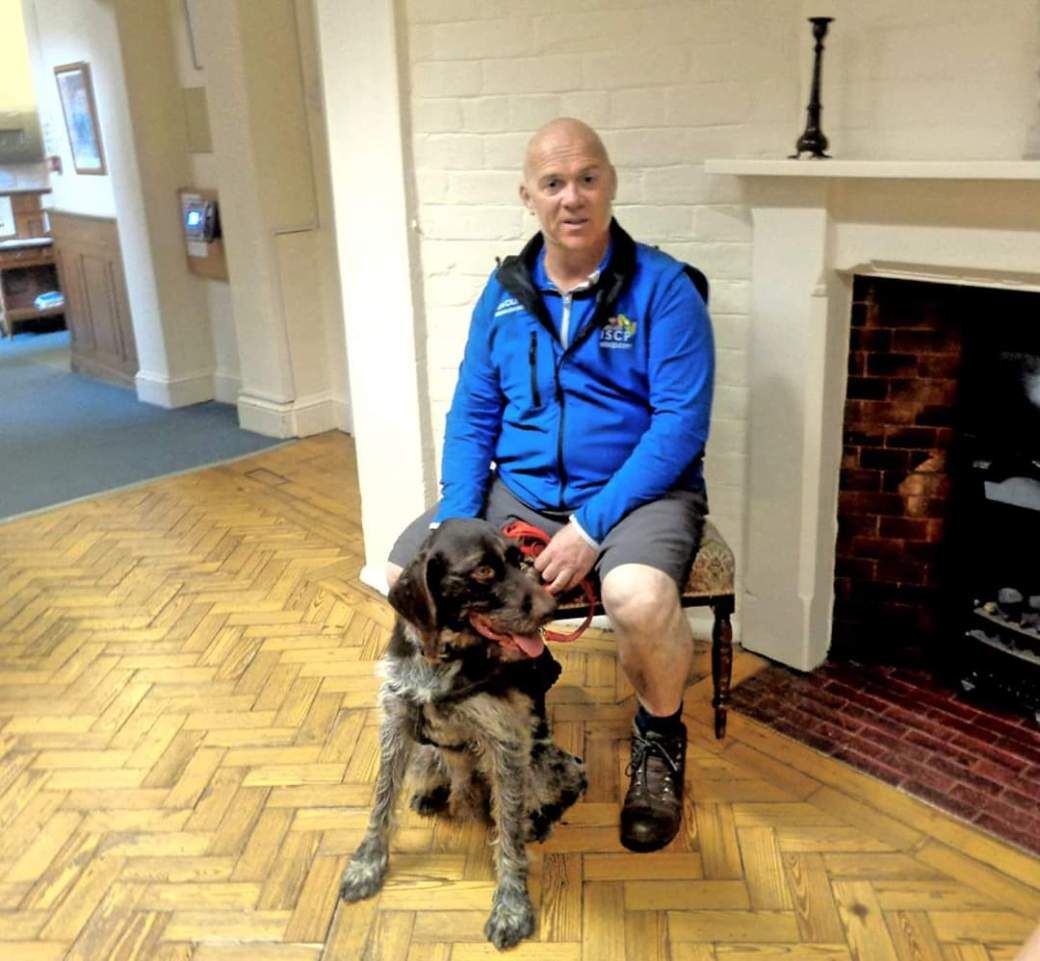 Whilst working at St Joseph's we were thrilled to be invited to work with a learner at the fabulous Landau training and enterprise centre in Stoke on Trent. This was the beginning of Angus's journey working with vulnerable young adults and children and one which really influenced my decision to focus our work in this area. I am often asked if Angus is a PAT dog and although Angus of course does love cuddles, he is not a PAT dog. Angus provides bespoke emotional support and training for individual learners. Some of the key areas that Angus works in are developing social and cognitive skills, developing positive social cohesion, and developing emotional crisis intervention strategies for individual learners. I am a strong advocate of PAT dogs and they provide an amazing service to many vulnerable children and adults within our communities, many of the schools that I work in with Angus also have a PAT dog and this combination of PAT dog and Angus works very well. The Landau centre is an amazing place to visit and the staff and learners are all so positive and Angus really looks forward to his visits. Angus has made such an impact with our key learners self confidence that they have now gone onto work with two of my other dogs, a truly wonderful achievement. The development of the learner has been a privilege to observe and be part of and we are now looking to arrange work experience working alongside Angus and me in other schools:
"Adam and his wonderful dogs are fantastic in working with vulnerable children, young people and adults. His participatory model of working ensures that he meets the needs of his customers and achieves positive outcomes. Words are not needed as his actions, active listening and the skilled use of his dogs is all that is needed. it is fantastic and refreshing to observe"
(S. Bradshaw: 2019).
One of the key components of our work is developing the learners self confidence and we do this by developing their ability to influence others through their own behavior. Sometimes the act of talking in front of others can be intimidating particularly if you have low self confidence. I often consider that to much talk can be confusing even if we share the same language so, imagine how confusing it can be for a dog. You don't need to talk to influence others including your dog, vocalization is a very small part of our communication repertoire. I will never forget the look on one of my learners faces when by changing their own behaviour they influenced Angus to sit without saying a word, these moments are life changing for the individual learner and are the first step to developing their own self-confidence and esteem. A lot of the learners that I work with have autism, PTSD or are disengaged and have no sense of being. Many of them find it extremely challenging to meet new people and the thought of meeting me and Angus and working with us must initially have been a very challenging time for many of my learners. This is where Angus really does make a difference, dog's have the ability to break down social barriers and in Angus's case he has a fantastic ability to connect with the learners. Meeting me on my own may not have been possible, but having Angus with me enables the learners to connect with another sentient being, to care and love without the fear of being rejected or judged:
'Hi Adam I would like to let you know that my daughter says that she really enjoys working with you because you are easy to talk to and a good listener. She says that she can trust you and she feels safe when working with you. When working with the dogs she says you make her feel confident and that she's doing a good job. She is also happy and excited to be working with you and the dogs on Fridays. I have to say that my daughter does not typically build relationships very quickly or easily, due to her autism, but I could see from the first time you met her that you got a response from her, because you had the dog with you, and made her feel good about her way with the dog. She really enjoys working with you and the dogs. Thank you for all you have done for her in such a short space of time"
( Anon:2019).
Whilst working at the Landau Training and Enterprise centre we were invited to work alongside a very talented colleague of mine with students at Wenlock School in Dudley. The opportunity to work alongside a very talented therapist with individual students is a real privilege and has allowed me to develop my own understanding of working with vulnerable persons, and how the development of human and dogs emotions run so parallel. Early life experiences whether through lack of appropriate care or abuse can be detrimental to the development of areas of the human brain that help us manage stress and anxiety and I believe that this is the same for dogs. Angus was abandoned on the streets of Cyprus and left to his own fate, starving and unloved until he was rescued by some truly amazing people. A story that sadly many of the students that I work with can personally relate to.
The students that I work with understand and connect with Angus's story and this is what makes a very special bond between them, unconditional love and the ability to begin to develop relationships with another sentient being without the risk of many of the difficulties of forming relationships with humans. One of the key success for Angus is his ability to work with students who have attachment disorders or are completely disengaged in the school environment. A continued inspiration for me is the joy and happiness of a student who was disengaged within the school environment, when he has a session with Angus. It's amazing to observe how the student responds to Angus and how through bespoke exercises, engagement, confidence, happiness and joy develop. These are priceless moments, the first steps to help shape the students future, give them hope that they are indeed special and can achieve their own goals:
"My son loves the work you and Angus do with him and it makes such a difference to the start of his week. I think your amazing and just wanted to say a big thank you"
(Anon:2020)
The next stage in Angus story was to begin working with students in a local academy initially on a one to one basis. Students with many of the same challenges that my other students have, but in a different environment. Ormiston Meridian Academy is an amazing school and the dedication of the teachers and staff is for me always inspiring. One to one training sessions went very well with similar results to my other students. Engagement, self- confidence, self- belief, social skills and communication were all areas that we worked together with the students. Some of the students really struggle in a classroom environment and this can escalate into an emotional crisis. The results of the emotional crisis could potentially include the student being removed from the class or even school and the disruption to other students and staff. I really enjoyed the one to one sessions and it gives the students the opportunity to develop a relationship with Angus, who would soon be supporting them in the classrooms. Having this opportunity to build a personal relationship with the school dog is crucial and allows the student and Angus to emotionally tune into each other in their own personal way which is mutually beneficial. The next stage was for Angus to work in the classrooms with the students and the aim of this was twofold . Firstly, to provide emotional support for the student, helping them self regulate and manage emotional crisis within the classroom, and to reduce the impact and disruption to other students and staff. Angus has been warmly received within the classroom and the overall feelings are very positive with increased attention, focus, concentration and engagement from all students. The other positive side to this is a reduction in disruptive interruptions by students increasing workflow and productivity within the classroom.
In the classroom Angus sits with the student, myself and a teaching assistant and we start with the positioning and contact between Angus and the student. Many students like to loop Angus's lead through their hand whilst working, providing a safe attachment and link to security and emotional regulation. I liken this to being on a drip in hospital only this time it's not intrusive and provides the student with a constant flow of emotional support. The emotional drip can be self regulated by the student from holding the lead when the student is feeling calm and relaxed to touching Angus when a higher dosage is needed. Some students are unaware of how their behaviour can influence others however, having the responsibility to care for Angus allows them to observe how Angus responds to their behaviour. A common example is the student who is caring for Angus who may be easily drawn into getting involved in disruptive behaviour within the classroom that has been initiated by other students. Any change in emotional energy by the student is fed to Angus through the lead and this will generally be observed with a change in Angus's body position. From a relaxed and sleeping Angus, to Angus waking up and looking around towards the source of disruption. The student who is caring for Angus already has a good relationship with him and they recognise that if they raise their voices or energy levels he will become anxious, and so by focusing on Angus's needs they make a conscious decision to not get involved in disruptive behaviour. We also have bespoke self- regulation methods for the students to help them recognise and manage emotional crisis's, which include gentle brushing, breathing exercises, touch exercises which are all tailored for the individual student. This aspect of Angus's work has been extremely successful and we are starting to see a reduction in classroom interruptions, classroom and school expulsions and higher levels of attendance. Classroom productivity levels are increasing and the classroom is a positive and place to be. A senior mathematics Teacher recently commented that when Angus was in the classroom he had had the best lesson that he had ever taught, a truly wonderful recommendation.
"My daughter has been working with Adam, Angus and Chester for the past few months due to a range of emotional issues that both us as parents and her school pastoral team couldn't seem to help with. In the time which she has been working with Adam and the dogs I have not only seen her confidence grow but also a change in her mental health. She has developed a range of coping strategies which she is able to use in a wide variety of situations and is now more settled within the school environment. My daughter looks forward to her sessions with Angus & Chester and for us as a family the benefit she is getting is invaluable. Thank you to Adam but also especially Angus & Chester" (Anon:2020).

From the very first time we met Angus he has been loving, extremely tactile and sensitive to his own and other emotions, a really wonderful dog. Thrown out on the streets to die he has with the support of many wonderful people found a new life in which he is loved and cared for. Early life experiences could understandably have shaped Angus to avoid humans for fear of rejection, but he has used those experiences to form an understanding and empathic bond with the students that he works with. Being part of this journey is such a privilege for me and I have never felt such euphoria as I do when Angus and a student make a connection for the first time. A buzz in the stomach rises through my body into my head and a feeling of immense joy, peace and togetherness washes over me. One of my new students told me recently that he had never cuddled a dog before and I have to admit this made me quite sad. The student is a kind and polite young man with low self confidence and it took a lot of courage for him to say that to me. Watching the student cuddle Angus was a moment that for me embodies what life is all about, respecting all life, empathy, understanding, sharing and recognising and embracing our emotions.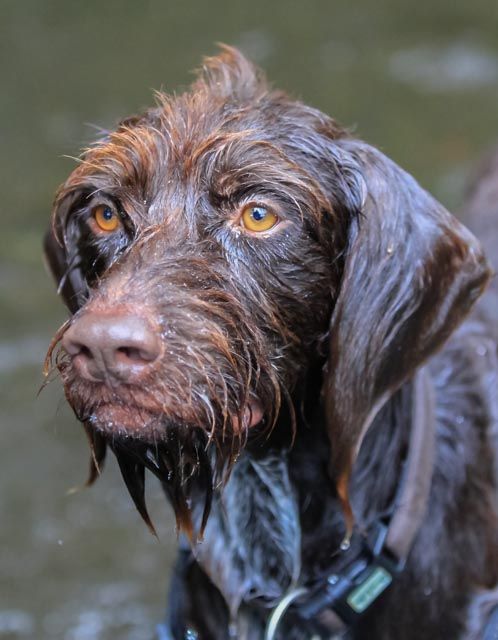 New course available!
Certificate for Veterinary Care Assistants
Created with